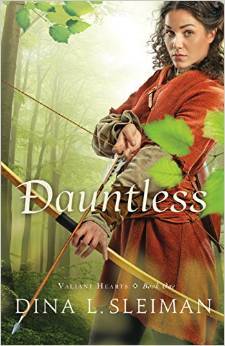 Though once a baron's daughter, Lady Merry Ellison is willing to go to any lengths to protect the orphaned children of her former village. Dubbed "The Ghosts of Farthingale Forest," her band of followers soon become enemies of the throne when they hijack ill-gotten gold meant for the king.

Timothy Grey, ninth child of the Baron of Greyham, longs to perform some feat so legendary that he will rise from obscurity and earn a title of his own. When the Ghosts of Farthingale Forest are spotted in Wyndeshire, where he serves as assistant to the local earl, he might have found his chance. But when he comes face-to-face with the leader of the thieves, will he choose fame or love?
MY THOUGHTS:
This novel is set almost exactly 800 years ago, in the year 1216. Teenager Merry Ellison leads a group of outlaw children whose families were slaughtered in a terrible political attack. Timothy Grey is the youngest son of a nobleman who longs to prove his worth by capturing the band of thieves for his employer.
It's a pleasant and entertaining story set in a grim stage of history which was just the opposite. People rarely bathed, methods of torture were barbaric, travel was long and difficult, and the age of legal culpability was seven, so that many of Merry's young followers would be hung, drawn and quartered if discovered along with their leaders.
It doesn't take long to figure out that this is going to a fairly lighthearted book. It's quite comical at times. Dina Sleiman wrote the story so lovingly, I couldn't help being confident, the further I read, that all would be well to the point of the macabre threats becoming a bit of a joke. For example, Lord Wyndemere scolding Timothy for not dealing with the thieves, saying, 'I was quite disappointed to find no rotting remains to greet me upon my return to the castle.' Yet I think she manages to pull it off okay without having it digress into a Medieval farce. We readers know that we're just getting a fun romp through the Middle Ages, but for Merry and her supporting characters, the ever-present threats of danger and sudden death are real.
Sometimes in books set so long ago, there's the danger of filling characters' heads with modern attitudes which would never have crossed their fixed mindsets. I wondered if this was happening with Merry, as some of her ideas about divine right order seem pretty up-to-date for a Medieval girl, but I think the author manages to get away with it here too. After all, some of Merry's fellow men set the precedent, such as Robin Hood (or Robyn of the Hode, as he's known by these characters).
The love triangle is fraught with some inevitable regret, as both contenders for Merry's heart are equally easy to support, to the point where we know we'll be sorry for the one who misses out. Even toward the end, she's not sure which it will be herself. Merry doesn't intend to play one off against the other, but she can't help doing so a bit. There's Timothy, trying to balance his Biblical respect for rulers with what he knows in his heart is right. And then there's Allen, who can plunder and steal one day, and approach God confident of help the next, because he knows God judges the heart (and after all, who can be innocent according to the twisted laws of King John?) During their sparring match, I honestly couldn't decide which of these two young men I hoped would win. I think the strength of childhood ties managed to push one of them over in the end.
I know my favourite aspect of this novel. Not the daring rescues, skilful exploits, tense love triangle, jealous foes, and backing out of what looks to be a perfectly set trap. Neither is it the touch of the angelic or the 'in the nick of time' reunions. Great as these things are, I loved the deep affection and camaraderie between the Farthingale Ghosts. This includes the way in which every member played on their strengths, carried each others weaknesses and were so distinct from each of their companions. I hope there will be another book because now I want to find out what happens to each of them, and most of all he who didn't win the heroine's hand.
Thanks to Bethany House and NetGalley for my review copy.
Award-winning author,
Paula Vince
loves to evoke tears and laughter through her novels. A wife and homeschooling mother of three, she resides in the beautiful Adelaide Hills of
South Australia
. Her youth was brightened by great fiction and she's on a mission to pay it forward.
Her novel, Picking up the Pieces, won the religious fiction section of the 2011 International Book Awards.
Her novel, Best Forgotten, was winner of the 2011 CALEB Award in the fiction category and also recognized as the best overall entry for the year, chosen over memoirs, devotionals and general non-fiction.
Paula's books are a skillful blend of drama and romance tied together with elements of mystery and suspense.